Create your original storybook only one in the world!
"PeKay's Little Author" is an iPad application to create your own storybook.
It can enrich children's time with their parents through the creation and sharing of original storybooks. Make your story with PeKay the piglet and his friends.
OverView
Using very simple operations on the screen, tell your story through PeKay the piglet and friends.
Print it out and you have a one-of-a-kind original picture storybook.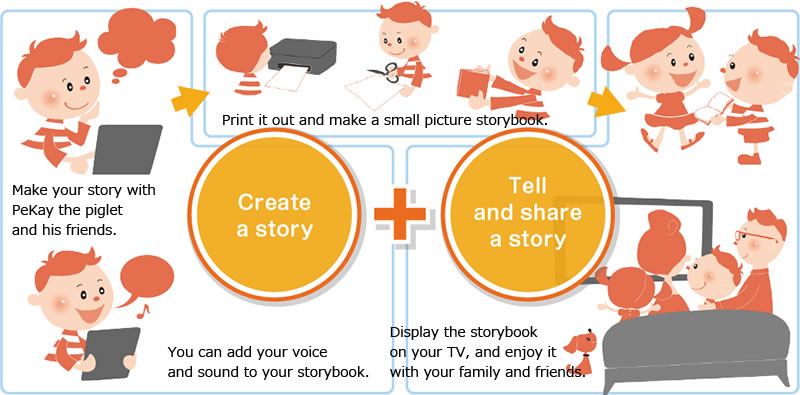 "PeKay's Little Author" nurtures imagination and creativity; an enrichment for children's lives.
You can download overview(pdf) from here.
How to Buy
You can purchase "PeKay's Little Author for iPad" from "iTunes App Store".
($4.99)


How to Play
Top Page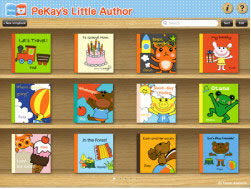 Each storybook is stored in a bookshelf on Top Page.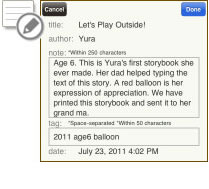 You can add memos to each books.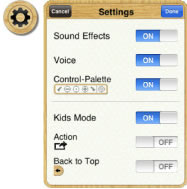 You can choose Kids Mode.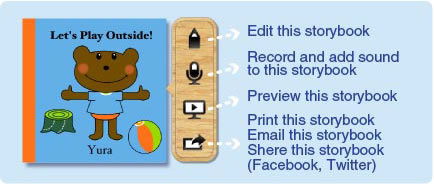 Editing Page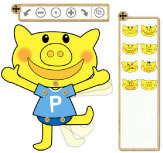 Choose face of your character, and change its pose.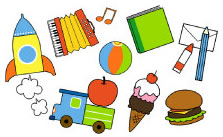 Many items like sky, forest, house, food, toys, and blocks.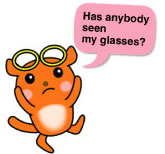 Add text on your page.
Sound Recording Page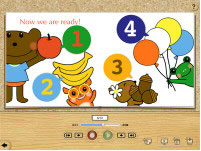 Record your voice, hand crap, musical instruments or anything to make sound.
Preview Page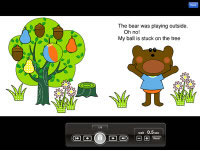 Preview and enjoy the storybook with your family and friends.
Email the storybook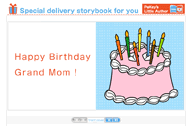 Email a link to the storybook as a gift for someone special.
Make a printed picture storybook
If you print on Letter size paper, the size will be about 2.6 inch square.

Sample Storybooks created by Children
Here are some samples of masterpieces with affluent ideas created by Children.
Now it is time to create your own! "PeKay's Little Author" will guide you through!

Ideas for using "PeKay's Little Author"
Toddlers and Preschool Children
Create a storybook with the whole family. Have your child tell the story and help type in the words. Play make-believe in the storybook with PeKay and friends. Creating and saving the storybook from time to time could be a wonderful record of child development through the ages.

From the Parents
If your child tends to skip a certain number when learning to count, create a storybook with that number as the theme. When a new member of the family is coming soon, tell your child about their new younger brother or sister through a storybook. Help your child learn to say or read their favorite things through a storybook made just for them. Of course, watching and helping your child create their own storybook and to see a big smile in sense of accomplishment and pride is the best part of this experience.

Elementary School Children

Pick a common theme among friends, create, then share and exchange the storybook. It would make a great gift for Mother's Day, Father's Day and so on.
For Family and Friends
When your child receives a birthday present, or family and friends gather for the child's birthday party, wouldn't it be special to send a storybook as a thank you note from the child?

For Grand Parents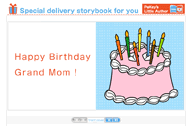 What Grand Parents would not enjoy receiving an original storybook from their Grand Children? It would make a perfect gift to send an on-line storybook or the real printed storybook.
A Message for Special Someone
It's not just for children. Adults can enjoy making a storybook as well. It could be a thank you note, birthday card, anniversary card, congratulations note, get-well card, or a love letter. You can send a heart-warming original storybook just for the special occasion.
For School and Workshop Teachers
Teach the children how to create a picture storybook. This could be part of a literature class, art class or some fun workshop. It could be a fun and powerful tool for teaching English as a second language. Because it is so easy to try different things, it's a great tool to help children learn to create and structure their own story. After they are done, have them present it in front of the group. They will enjoy the fun and pride of creating and sharing their original storybook.
(This is PC version.)
These are just some examples.
Your imagination is the limit for your beautiful one-of-a-kind storybook.

The characters in "PeKay's Little Author" are dear friends from "PeKay's House"
"PeKay's House" and "PeKay's Little Author" were created by the same author who wishes from the bottom of her heart that for children around the world, the first encounter with a computer is a very warm and happy one that can be shared with ones they love.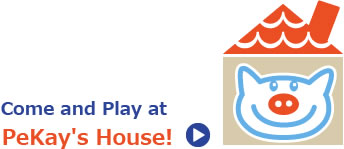 It was introduced in Japanese in 2002, and English in 2008.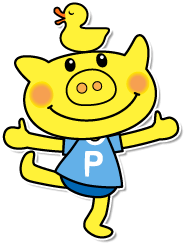 Gaako
Usually found near the bathtub in PeKay's House.
When the urge hits, goes out on adventures.
PeKay
Always full of energy and loves to play.
Proud of the nose that can honk like a horn.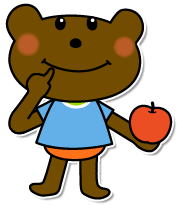 Ma
Easy going bear. Always hungry.
Gentle and strong. Loves taking
a nap on the hammock.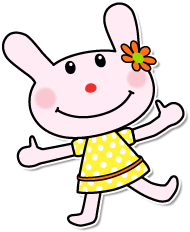 Mimi
Very good dancer.
Smart dresser.
Loves Ribbons and
Flowers.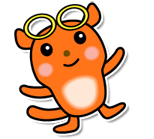 Wookey
Always curious. Playfulness
gets out of hand sometimes.
Must wear glasses all the time.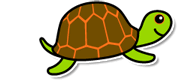 Mannen
No one knows how old he
really is. At least 100 years
old. The turtle is wise as
it is old.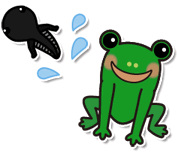 Otama
Strayed away from lots of brothers and
sisters somewhere. Also can't remember
where the tail was lost.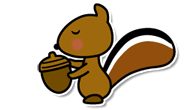 Kurin
Small voice and faint-hearted.
Ends up collecting small things.
However, rises to the occasion in a crunch.

PeKay's Little Author" 's Hope
We believe sharing the time of creating and telling a story with your family and friends provides very good experience to children, helps their growth and expands his/her thoughts and appreciation to the human relationship.
We hope this application helps that, and give a wonderful moment with enjoyment.

Message from the Author of "PeKay's Little Author"
To Preschool Children
Do you enjoy book reading?
What kind of books do you like?
Do you like to tell a story?
Can you imagine writing your own storybook?
Together with PeKay and friends with a little help from your parents, it's really fun and easy to make your own storybook.
When you are done, share it with your parents, family and friends.
You don't have to read well to tell your own story along with the original storybook you have created.
To Elementary School Children
Usually, you buy a picture storybook or borrow one from the library.
Today, you can make your own original storybook. With "PeKay's Little Author," you are the storybook author.
You can tell your own story, make up your message and turn it into a storybook to share with your family and friends.
You can E-mail a link to the on-line storybook, or mail the real printed storybook to make it even more special.
To Parents
Wealth of fun and enjoyable experiences as children will empower them as they go through life.
Through "PeKay's Little Author," my desire and wish is to deliver to children deep enjoyment, and to help develop sense of trust, confidence and pride.
Storybooks nourish the mind.
It is my hope that the joy of creating one's own storybook will help nurture children's ability to create and care to live a richer life.
On January 17, 1995, Kobe where I live was hit by a big earthquake known as the Great Hanshin Earthquake. The streets were pitch-dark. As I was riding a bus going through the streets cut open by wrath of earth and staring at the town that had been completely ruined, I was overtaken by a sense of loss.
However, immediately after that, some feeling of confidence that "everything is going to be OK" began to flow to my gut like spring water. It was totally unexpected and groundless to think "everything is going to be OK," so I wondered where it came from.
I've come to recognize that it was the tangible and intangible love that I had received from my parents growing up. Childhood filled with love is deeply rooted, and helps me to think positively about myself, to trust others, and to believe in the future and think "everything is going to be OK." It's not apparent all the time, but, when I face life's most difficult challenges, it is there to support me. And I am deeply thankful.
Childhood filled with love, fun, and joy nurtures zest for living.
Creating a storybook is high quality enjoyment, particularly when the children can share this experience with their loved ones. My inspiration for creating the "PeKay's Little Author" was the strong desire to contribute, however small, to provide a sense of "everything is going to be OK" for the children of the future around the world.

March 1, 2009
Tamie Asakura

PRIVACY POLICY
PeKay's Little Author for iPad
Does not contain any ads
Does not contain any in-app purchases
Does contain links to PeKay's official web site
Does contain the function of sharing the storybook on Facebook/Twitter
Does not collect or transmit any personal information
This app contains Parental Gate that restricts your kids from accessing a parents section (includes the function of sharing the storybook on Facebook/Twitter and PeKay's official web site).

CONTACT